Persbericht, 1 december 2021
---
De zweedse redders van de heavy metal HAMMERFALL laten de hamer weer keihard toeslaan met hun twaalfde studioalbum Hammer of Dawn welke op 25 februari 2022 wordt uitgebracht via Napalm Records. De release van het album wordt voorafgegaan door de eerste single en tevens het titelnummer "Hammer of Dawn". Deze wordt vergezeld van een muziekvideo gefilmd door de beroemde regisseur Patric Ullaeus in het Liseberg-pretpark in Göteborg.
Oscar Dronjak over de single: "The song itself was initially conceived in Germany during the World Dominion tour, with the rest of the work being done at home. I immediately knew this had the potential to be something important, and when Joacim added his vocal melodies we both felt it would be the perfect single. One with substance and power but also one you can't stop singing when the music fades out."
Joacim Cans voegt toe over de video: "We already had the idea to shoot a video at legendary amusement park Liseberg 20 years ago. But like any good bottle of Champagne this idea needed to rest and mature before taken into action. And FUCK I am happy we waited! Together with director Patric Ullaeus we have created something unique and astonishing that totally blows me away every time I watch it. You can really tell that we haven't played together for almost two long and never-ending years. We are as energetic as a pack of hungry wolves in the video ready to shred and deliver the heavy metal gospel!"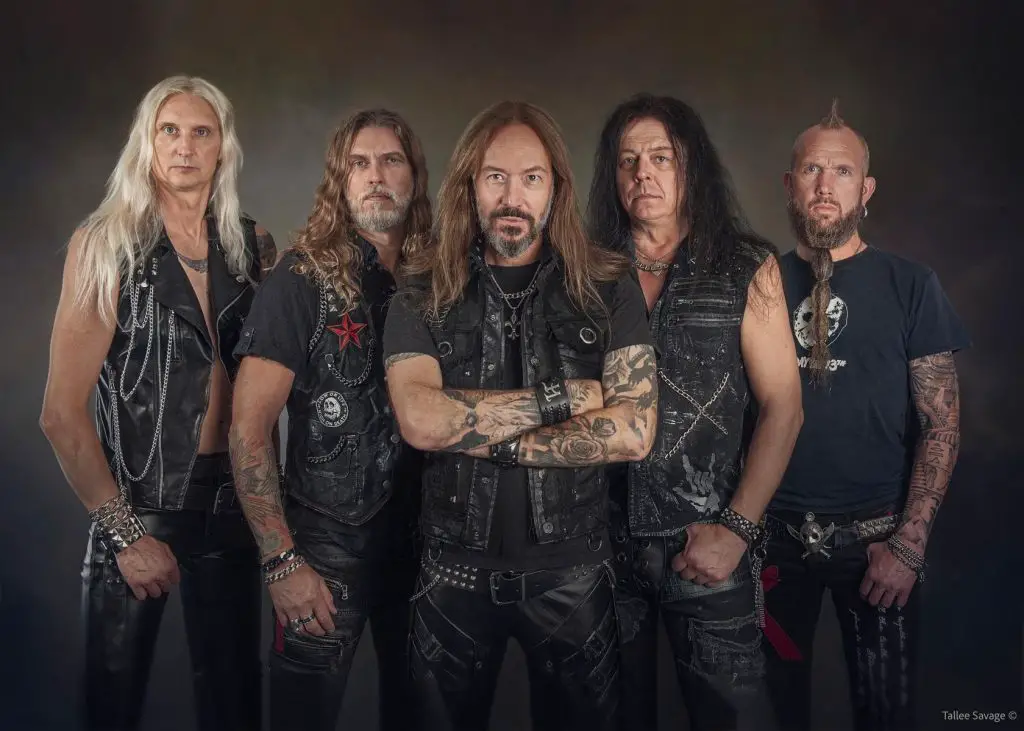 Als een van de belangrijkste bands in de pure heavy metal scene heeft HAMMERFALL gedurende hun uitgebreide carrière niet alleen de Zweedse album charts gedomineerd, maar ook die van een deel van Europa. Ook haalden ze drie keer de gouden status. Het was een helse job om het zeer geprezen voorgaande album Dominion op te volgen, maar HAMMERFALL ging collectief de uitdaging aan en heeft volgens veel vroege luisteraars nu al het beste metal album van 2022 en een hoogtepunt in de bandcatalogus gemaakt.
Joacim Cans over de nieuwe plaat: "It's hard to describe in words how extremely happy and proud I am about the outcome of Hammer Of Dawn. It was a struggle, for sure, but in the end we pulled it off and delivered a solid, vital and positive new album. Everyone is on top of his game and together we have created yet another milestone in HAMMERFALL history. Can't wait to sing these songs live together with my sisters and brothers, The Templars of Steel!"
Oscar Dronjak voegt daar aan toe: "We spent a long time creating the songs for this album, mainly due to the Coronavirus but also because we began working on the material very early. That's definitely evident in the result, the attention to detail is very big. Another thing that is quite palpable is the energy level, and that can be contributed to the extreme and forced downtime we all had to endure during the pandemic. The atmosphere in the studio was relaxed and laid back and the lack of stress created the perfect working environment for turning up the heat when the red light came on. It was easy to peak when you had to since there was no outside distractions or immediate deadlines. This album is a product of the pandemic in some ways, but more importantly it's a strong statement that we are experiencing the high point in our creativity at the moment. I've said it before: HAMMERFALL has never sounded better than we do right now!"
Bestel je versie van Hammer of Dawn HIER!