Enigmatic singer, songwriter, multi-instrumentalist and producer Marika Hackman unveils details of her fourth studio album 'Big Sigh', releasing 12th January via Chrysalis Records. 'Big Sigh' – the "hardest record" Marika has ever made – is, as its title suggests, a release of sorts. It is an edifying blend of sadness, stress and lust, but mostly – and crucially – that of relief.
Marika has also shared her potent new single 'Hanging', a track that processes the end of a relationship in a delicate, dissociative daze, until its engulfing ending in a crash of banshee wails and grunge guitars. 'Hanging' epitomises the forthcoming album's opposing themes: the contrast of loud-quiet, the rub of industrial and pastoral, and the innocence of childhood versus the gnarly realities of adulthood. Marika offers the following on the single, "Hanging is reflecting on a difficult past relationship and how you can trap yourself in a situation where you're unable to grow into the next stage of your life. The line 'yeah you were a part of me, i'm so relieved it hurts' is describing how painful it still is to break up even if it's not right."

Last month Marika surprised fans with the release of single 'No Caffeine' which she toasted with a one-off, intimate show at the ICA that sold out in minutes. 'No Caffeine' ushered in the new Marika Hackman era by thrusting its listener right into the eye of the storm, listing what to do to avoid having a panic attack and looking at her own anxiety as an abusive partner.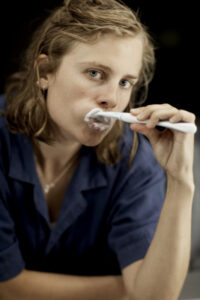 'Big Sigh' is the latest advancement by a musician who has remained inventive with every release. Over the years her genre-morphing sound has been compared to "the lovechild of Nico and Joanna Newsom", Blur and Rid of Me-era PJ Harvey, while the Guardian's five star review of 2019's Any Human Friend praised her "lethally sharp pop hooks". On 'Big Sigh', however, Marika ventures into fresh terrain. There is a constant tug between organic instrumentation and the harsher dynamics of synthetic distortion – like walking into an abandoned industrial wasteland covered in poison ivy. To achieve these dualities, Marika had to summon a very specific soundscape for each song: she not only played every instrument save for the brass and strings on Big Sigh, but produced it too, along with Sam Petts-Davies [Thom Yorke, Warpaint] and long-term collaborator Charlie Andrew. Speaking to DIY earlier this month Marika said about Big Sigh, "This time round, it still has to be better but I think bigger doesn't necessarily mean better."
Leaving the carnal days of her 20s behind, this album is less a photo-real documentation of the moment, but more like an artist peering through a gap in a door to reassess her former life. If it's her haunting soundscapes that first lure you in, it's her lyrical acrobatics that latch onto your brain – images of gore, yearning and off-kilter romance. In her never-ending pursuit of untangling her internal universe and exploring complex melodies, she has made her most honest and brave album yet.
Marika will tour the EU in 2024 and fans in the Benelux can hear this new album live on the following dates:
08/04/2024 – Brussels, Belgium – Botanique
09/04/2024 – Amsterdam, Netherlands – Tolhuistuin