Op 8 oktober verschijnt Fischer-Z's nieuwe studio-album "Til The Oceans Overflow"! Ter promotie hiervan zal John Watts op deze dag rond 17:00 een instore-gig (yes, het mag weer!) verzorgen in Concerto / Amsterdam.
The new album "Til The Oceans Overflow" connects with the 40th anniversary of Fischer-Z's iconic "Red Skies Over Paradise"-album. It is set once again in Berlin and contrasts the personal, political and social changes between 1980 and 2020. The internet and social media has radically affected people's freedoms and manipulability. Characters mentioned in the 1980's songs have been brought forward 40 years in their lives to illustrate some of these changes.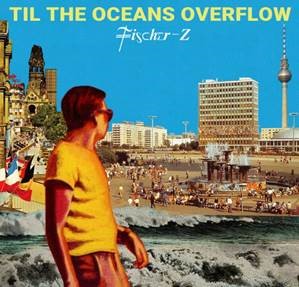 The basics of this new album were recorded by founding member/frontman John Watts in the famous Hansa Studios in Berlin, but the Covid pandemic put just about everything on pause (check out the summer 2021 single/videoclip "Same Boat" too!). His international band contributed parts from home across the internet to John in Brighton/UK, who included them in his production. The album ends with the track "A.I.OWNS.U" which lampoons the wonders of Artificial Intelligence; "In Your Mouth, In Your Nose, Spoons". A.I. should not be introduced without caution!
John Watts, the heart and soul of the ever-evolving Fischer-Z, who is by definition a live-performer, has spent the frustrating last year and a half getting his teeth into making this new themed band album. He is more eager than ever to promote the new songs, along with all his classic hits, with a gigantic list of upcoming shows!
Live:
08-10 – Concerto (instore) – Amsterdam
24-11 – Metropool – Hengelo
26-11 – Fluor – Amersfoort
27-11 – Zalen Schaaf – Leeuwarden
28-11 – Boerderij – Zoetermeer
11-01 – Paradiso – Amsterdam