Persbericht, vrijdag 27 mei 2022
---
Chuck Leavell, toetsenist en muzikaal leider van de Rolling Stones, is al meer dan 40 jaar een lust voor het oor van muziekfans.
Naast The Rolling Stones, wordt zijn piano en keyboard ook gehoord op de muziek van Eric Clapton, John Mayer, The Black Crowes, George Harrison, The Allman Brothers Band, The Indigo Girls, Blues Traveler, Train, Montgomery-Gentry, Lee Ann Womack en nog veel, veel meer.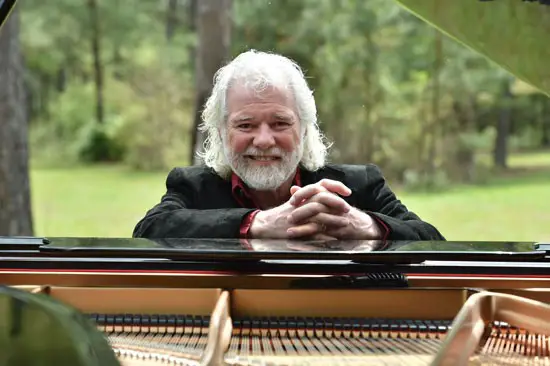 Dit jaar vieren de Rolling Stones hun 60-jarig jubileum als band met twee grote Benelux shows, één in de Johan Cruijff Arena in Amsterdam op 13 Juni en een in het Koning Boudewijn Stadion in Brussel op 11 Juli.  Dit jaar markeert ook Chuck's 40e jaar dat hij optreed met de band.
Leavell's meest recente album Chuck Gets Big (with The Frankfurt Radio Big Band) werd uitgebracht door BMG.
Hierop wordt hij bijgestaan door de Frankfurt Radio Big Band. Het album bevat covers zoals Ray Charles' "Losing Hand" en "Georgia on My Mind" maar ook "Southbound" en "Statesboro Blues" van The Allman Brothers Band.
Het album bevat ook de rockers 'Tumbling Dice' en 'Honky Tonk Woman' van de Stones, voordat hij de boel afrondt met een paar originelen.
Leavell zegt: "In 2011, I had the pleasure of doing a concert with The Frankfurt Radio Big Band, a 17-piece brass orchestra of some of the finest musicians in Germany. Three talented arrangers created charts for some twelve songs I had chosen from my works with the Allman Brothers Band, Sea Level and the Rolling Stones, as well as my own compositions."
More about Chuck Leavell
In addition to being a well-established pianist/artist in the music industry, Leavell is also a published author, long time tree farmer, co-founder of the popular website The Mother Nature Network, and keeps busy with his advocacy work on behalf of the environment. At the age of 13, Chuck got the opportunity to see Ray Charles in concert. He recalls, "Ray and the band played an incredible show, and it had such an impact on me that I made up my mind there and then that that was what I wanted to do. I decided that night what I wanted as my career." When he was 15, Leavell made his way to Muscle Shoals, AL, and the legendary studios there, where he played on several records, including Freddie North's soul classic Don't Take Her, She's All I've Got.
In 1970 Chuck moved to Macon, GA, where Southern music impresario Phil Walden had recently opened Capricorn Records and studio. There he worked his way through the ranks recording and touring with Alex Taylor (brother of James Taylor), Dr. John, country legend Kitty Wells, The Marshall Tucker Band and others. In 1972 having just turned 20 years old, Leavell was asked to join the Allman Brothers Band. The first album he recorded with the band was Brothers and Sisters, which included the classics "Ramblin' Man" and "Jessica." The album hit number one on Billboard's Pop charts, and he went on to record several more albums with them before the Allmans temporarily disbanded in 1976.
Emerging from the break-up of the Allman Brothers Band, Leavell formed the rock/jazz/blues fusion group Sea Level with Allman's drummer Jaimoe. The band toured relentlessly during the late '70s and released five critically acclaimed albums. Catching the ears of and becoming friends with the late rock 'n' roll impresario Bill Graham and keyboardist Ian Stewart, the original "sixth" Rolling Stone, in 1982 he was invited to assume a significant keyboardist/vocalist/musical director role for the Stones that continues today. Says guitarist Keith Richards: "Without the continuity that Chuck brings to us, the Stones would not be the Stones." Leavell describes his role with the Stones as a "sort of musical navigator" who keeps track of arrangements and keeps things balanced in addition to spicing up the music with his keyboards.
Meer info: Chuck Leavell online