Persbericht, 4 november 2021
---
Foals heeft vandaag de nieuwe single 'Wake Me Up' uitgebracht. De band uit Oxford, UK staat bekend om zijn karakteristieke sound met gesyncopeerde ritmes en pittige, indringende hooks. Op de nieuwe single wordt deze herkenbare sound gecombineerd met nieuwe invloeden en schokkerige, chic-esque gitaren. Met de release van 'Wake Me Up' heeft Foals vandaag ook de komst van een nieuw album in 2022 bevestigd.
Frontman Yannis: "There's a journey that the band has gone on experimenting with different palettes of sound. This time there was a desire to take it back to more of the initial idea of the band where the rhythm, the grooves and the guitars are interlocking architecturally. We wanted to tap into the physicality of music. And we wanted it to feel good."
'Wake Me Up' kreeg vorm in de sombere winter van afgelopen jaar in Groot-Brittannië, die werd beperkt door de wereldwijde COVID pandemie. Het bleek een grote invloed te hebben op de creativiteit en innerlijke inspiratie van bandleden Yannis, Jimmy en Jack. De schrijfsessie vond vroeg in de ochtend plaats, in hun kleine oefenruimte in Peckham. Tegen de tijd dat ze klaar waren, was Zuid-Londen al gehuld in duisternis.
Yannis: "With 'Wake Me Up', I just wanted to write a song about transporting yourself to a better, idyllic situation.  I think we all had that feeling of the last eighteen months being like a weird fever dream that felt surreal but very affecting. I think we all wished we could have woken up somewhere else at various points."
Bekijk hieronder de videoclip van 'Wake Me Up'.
'Wake Me Up' is geproduceerd door Grammy Award genomineerde producer John Hill (Portugal The Man, Florence + The Machine, Cage The Elephant) en gecoproduceerd door Miles James en A.K. Paul. Het nummer is gemixt door Manny Marroquin die tien Grammy's won, waaronder voor zijn werk voor Post Malone, Kanye West en Rihanna.
Hill heeft ook aan de rest van het album meegewerkt, samen met Dan Carey (Tame Impala, Fontaines D.C.), James en Paul. 'Wake Me Up' geeft een goed beeld van de rest van het album, dat door Yannis beschreven wordt als "our version of a dance or disco record" met teksten die "transport oneself out of the oppression of lockdown and the bleakness of last year."
FOALS staat op 15 mei 2022 in AFAS Live.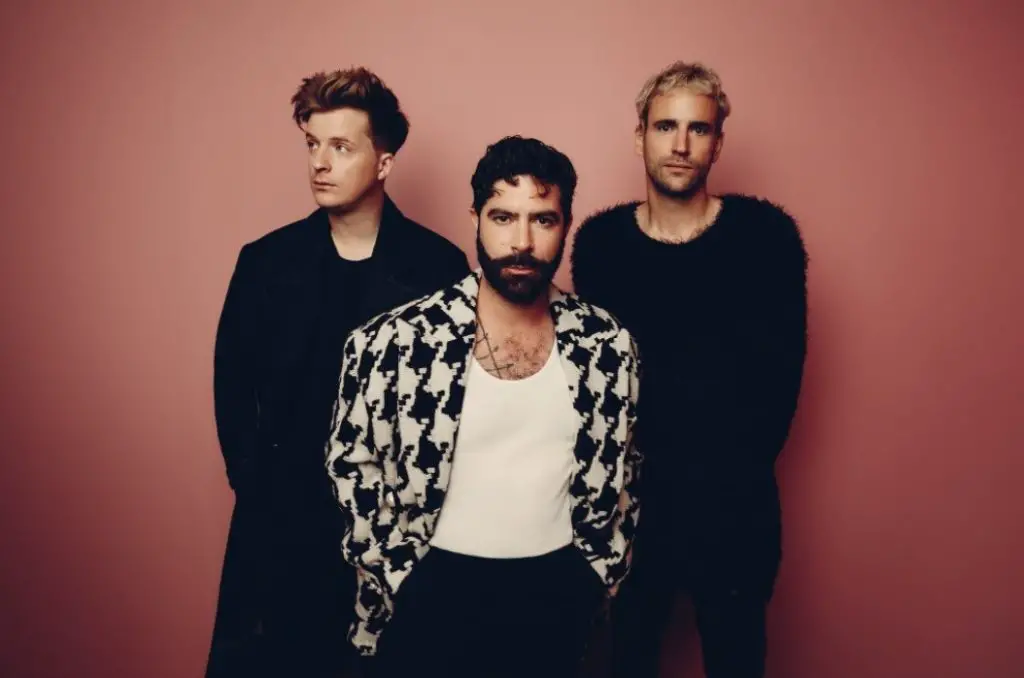 OVER FOALS
De indierockband Foals uit Cambridge bracht in 2008 hun debuutalbum Antidotes uit. Sindsdien bracht de groep vijf platen uit, waarvan Everything Not Saved Will Be Lost – Part 2 uit 2019 de laatste is. Ze scoorden hits met nummers als My Number en Mountain At My Gates en speelden shows op grote festivals als Glastonbury, Coachella en Lowlands. In 2020 ontving Foals een Brit Award in de categorie Best Group.